SLOVENIA
---
Slovenia lies in the heart of Europe, where the Alps meet the Mediterranean and the Pannonian Plain meets the Karst. This small green country measures 20,273 km2 in area, and is home to sincere, hospitable people of great diligence. It has an exceptional number of top athletes, and a wealth of cultural creativity.
In Slovenia, the sun shines approximately 2,000 hours per year. And there is plenty of snow in winter. The average temperatures are -2°C in January and 21°C in July. Green is the dominant colour. There are many woods and forests in Slovenia – covering more than half of the country – and numerous preserved and protected plant and animal species.
Slovenia has 46,6 km of coastline- one inch per inhabitant, 26.000 kilometres of rivers and streams and some 7.500 springs of drinking water, including several hundred of first class therapeutic mineral springs. Approximately 11% of Slovenia's territory is specially protected; the largest area with such a regime is the Triglav National Park with a surface area of 848 km2.

Read More
Slovenia makes a great tourist destination. You can ski in the morning and surrender yourself to the luxury of the Adriatic Sea in the afternoon. Snow-capped peaks, turquoise-green rivers, and an Adriatic coastline inspired by Venice. Throughout Slovenia, a culinary and cultural sophistication hides behind a rural, rustic charm.
The country is also known for its great wines and delicious traditional food.
Slovenians would describe themselves as hard-working, diligent and active people, individualists who speak foreign languages well. They are proud of their culture and language. Slovenians are well educated and open to difference.
Cultural events are unbelievably well attended – various festivals (especially in the summer months) thrill visitors who come from near and far. Theatre and concerts are popular, Slovenians love to read and are proud of their cultural tradition.
---
EDM CIRKUS
Festival info
WELCOME TO MY HOUSE Supported by EXIT FESTIVAL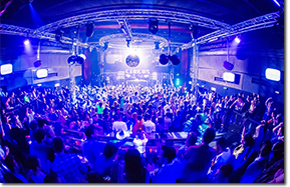 Welcome to My House je najsvežija zabava u glavnom gradu Slovenije. Ono što je široj publici sakriveno po underground klubovima Evrope, ekipa Welcome To My House u saradnji sa Supra Travel predstavlja u najboljem klubu u Sloveniji.
Jedanput mesečno na glavnoj bini kluba Cirkus gostuju najpoznatija svetska imena deep i tech house scene. Nastupili su James Zabiela, Andrea Oliva, Mike Vale i Joris Voorn, a u budućnosti dogovaramo nastupe Nine Kraviz, Unera i Scube.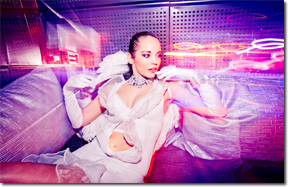 Welcome To My House je najbolji odabir za početak avanture WBAADT u prestonici Slovenije.
Preparty za Welcome To My House će se održati u sklopu stejdža na ljubljanskoj Laguni, u idiličnom prirodnom ambientu uz nastup dj Buchana.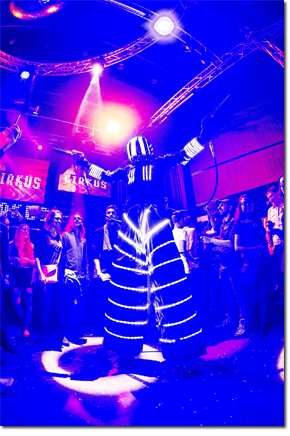 Must See
Destinations
Discover, arrive and enjoy!
1. LJUBLJANA
Ljubljana, Slovenia's biggest city (say lyoob-lya-nah – the j's are mostly silent), also happens to be one of Europe's greenest and most liveable capitals. Whether you're planning a trip to Slovenia's majestic mountains, coasts and caves or merely en route to Adriatic resorts in Croatia or Montenegro, the city merits a stopover to enjoy its castle, culture, and bank of cafes that stretches out along the tiny Ljubljanica River.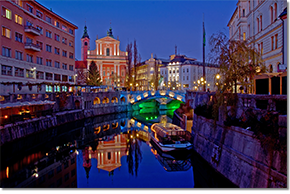 2. LAKE BLED
With its emerald-green lake, picture-postcard church on an islet, a medieval castle clinging to a rocky cliff and some of the highest peaks of the Julian Alps and the Karavanke as backdrops, Bled is Slovenia's most popular resort, drawing everyone from honeymooners lured by the over-the-top romantic setting to backpackers, who come for the hiking, biking, boating and canyoning possibilities. Not surprisingly, Bled can be overpriced and swarming with tourists in mid-summer. But as is the case with many popular destinations around the world, people come in droves – and will continue to do so – because the place is special.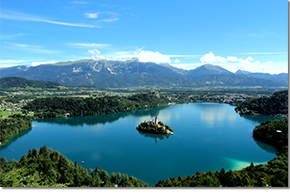 3. POSTOJNA CAVE
The Postojna Cave system, a series of caverns, halls and passages some 20.6km long and two million years old, was hollowed out by the Pivka River, which enters a subterranean tunnel near the cave's entrance. The river continues its deep passage underground, carving out several series of caves, and emerges again as the Unica River.
Visitors get to see about 5.7km of the cave on 1½-hour tours; some 4km of this is covered by an electric train, which takes you to the Big Mountain (Velika Gora) cavern, on a trip that's like entering the secret lair of a James Bond villain. From here a guide escorts you through halls, galleries and caverns in one of four languages (audio guides are available in a further dozen).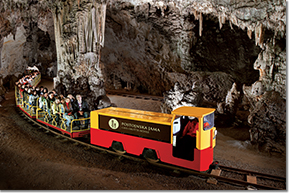 Read More
4. PIRAN
Piran is a very special, precious city. It is the best preserved cultural monument of Slovenian Istria and the closest neighbour of Portorož, the luxurious city of flowers. Each time one looks at Piran from a distance or from the air, one is overcome by feeling of surprise. Loved by the eyes of the people and by the eye of the camera, its image is known all over the world. When you visit Piran, you should take a closer look at its architecture, influenced by the Venetian Republic, which left its mark on most Istrian towns. The city of Piran is a national historical monument.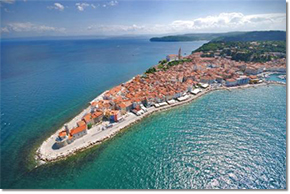 5. ŠKOCJAN CAVES
Škocjan Caves are the most important underground phenomenon in the Karst region and Slovenia are among the most important caves in the world. Due to their exceptional significance, the Škocjan Caves were entered on UNESCO's list of natural and cultural world heritage sites in 1986.
International scientific circles have thus acknowledged the importance of the Caves as one of the natural treasures of planet Earth. Underground canyon of the river is so far the largest known underground canyon in the world.
Škocjan caves are very branched system of cave passages that are long 6.2 km, depth to the lowest point is 223 m. The exceptional character of the caves is mainly in its dimensions, which visitors do not let indifferent. .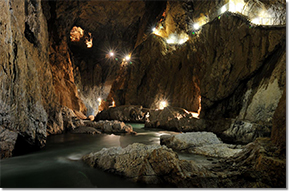 6. SEČOVLJE SALINA NATURE PARK
The Sečovlje salts flats are the northernmost salt flats in the Mediterranean. The salt is produced in the traditional way based on a 700-year-old method that harmonizes man and nature. Over the centuries, a unique habitat has formed for halophytic plants and animals and migrating birds. The cultural heritage, which reflects centuries of work by saltmakers, is extremely rich.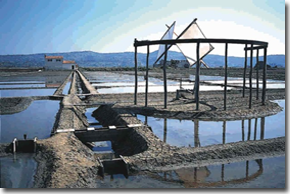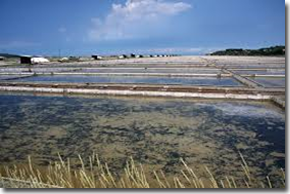 7. CLUB AMBASADA GAVIOLI
In the industrial area southeast of the port, the Ambasada Gavioli holds the crown as queen of Slovenia's electronic clubs, showcasing a procession of international and local DJs.
Ambasada Gavioli has become the focal point of the Electronic music community in Slovenia, Northern Italy, Southern Austria and North-West Croatia, achieving almost a cult following appeal in the scene. In the cultural context many people see the venue and the movement it created as a display of new cultural strength of the independent Slovenia. The club was also intensely famed by the media due to its edgy provocative image, which has been carefully maintained by its Public Relations department, further reinforcing its futuristic cult-like appeal.
8. LENT FESTIVAL
The biggest event on the city's calendar is the Lent Festival, a two-week celebration of folklore, culture and music from late June into July, when stages are set up throughout the Old Town. Festival boasts every year with over 500 performances and a total of almost 1,000 different events, visited by over half a million people. More than 58 venues hosted over 10,000 performers from 37 different countries.
9. TERME CATEZ
The natural spa and sports – recreational center with thermal riviera , distanced approximately 1.5 km from the village Catez ob Savi . Hot springs in the area of today's term was first discovered in 1797 , but by 1842 flooded Sava. The springs were rediscovered in 1854 . Čateške spa in the years 1924 started to edit the spa. The real momentum achieved since 1963 , when they built the first modern facilities. Terme Catez are today one of the largest Slovenian natural spas with a wide selection of products for all ages: attractive water programs, wellness and health services, sports facilities, convention facilities, …
Prior research by drilling in 1957 were sold at a depth of 7-12 m draw small amounts of water with a temperature of 54 ° C , in 1958 while at a depth of 56 m in the Tertiarylimestone litavskem captured water with a temperature of 58 º C. Research beyond 1964 are at a depth of 300 m in Triassic dolomite discovered water with a temperature of 57-64 ° C. This water now pumped up to the amount of 80 l / sec., Which is sufficient for the needs of rekraacijskih pools, spas and heating greenhouses. [1] The main wells Terme Catez locate geophysicist Janez K. Lapajne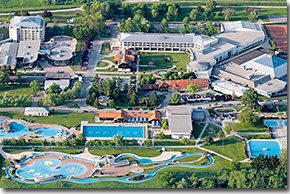 Natural remedy
Naturally the active agent is water from akratohiperterm with several springs of different temperatures (from 54 to 64 ° C ), which are slightly radioactive.
Treatment
Healing baths in swimming pools or individual baths, medical gymnastics, all types of massage, electrotherapy, thermotherapy and traction. [2]
Facilities
Terme Catez have extensive sports and recreation facilities ( fitness , fitness studio, sauna , in trim trail , sports fields, tennis courts , mini golf , cycling , fishing , boating).Particularly rich is directly associated with thermal water offer. These are: Summer Thermal Riviera , which is the largest outdoor pool complex in Slovenia, which is expanding to more than 10,000 m² (7 outdoor pools, slides, river, watercourse, waterfalls, skull island); and Winter Thermal Riviera with more than 1,800 m² of land covered swimming pools.
10. Portorož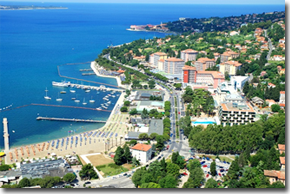 Portorož is an urban coastal settlement in the Municipality of Piran in southwestern Slovenia. It is one of the country's largest tourist areas.
The settlement and its surrounding areas are served by Portorož International Airport which is located in nearby village of Sečovlje.
Tourism development
In the second half of the 19th century, the leaders of the Pirano municipality and local doctors decided to stimulate tourism in the region, by offering health treatment by concentrated salt water and salina mud, and from 1879 onwards dr. Giovanni Lugnanofirst offerer of such treatment to various visitors.
In 1885 after several years of successful start of a new branch of industry, constructions of new complexes and villas began, and in 1890 the predecessor of the famous Hotel Palace was built. Among the new settlers were various prominent figures, such as Antonelli, Dragovina, Furian, Frennez, Langer, Rastelli, Reinlaner and Salvetti.
Because of the new branch of healthcare treatment that emerged in Porto Rose, the ministry of interior affairs declared the settlement to be a health resort.
In 1908 dr. Orazio Pupini, a prominent Austrian doctor with a noticeable treatment history opened a sanatorium. He was also the main doctor of the Austrian Railways, and a member of the Austrian doctor's Association.
Economy of Portorož is mainly based on tourism. The facilities include a marina,[6] several casinos, and numerous sporting facilities.
Portorož has been host to the Banka Koper Slovenia Open tennis tournament of WTA Tour since 2005.
In 1958, the Portorož international chess tournament was won by M. Tal; R. J. Fischer finished sixth, and was awarded the title of grandmaster at the (then) record age of 15.
Arts
Portorož hosts annual Festival of Slovenian Film (Festival slovenskega filma) with Vesna awards being awarded for best achievements in Slovenian cinematography.
Since 1961, Portorož also hosts a contemporary art biennale, the International Sculpture Symposium Forma Viva. The works are on display in a sculpture park in the village of Seča.
About Partner
Info
Supra Travel je vodeći organizator specializovanih turističkih događaja za mlade iz
Slovenije. Prvi smo po broju putnika na novogodišnjim putovanjima, gde mladi sa Supra Travel dočekuju novu godinu u više od 10 evropskih metropola.
Legendarni festival BIG Spring Break koji organizujemo od 2013 godine je odmah
postao najveći i najbolji prvomajski festival za mlade iz Slovenije, Hrvatske i
Italije. U 2014 smo postavili novi rekord posećenosti sa vise od 7000 posetilaca
u 3 dana.
Supra Travel je jedan od glavnih organizatora partija i edm festivala u Sloveniji,
te tako širimo i promovišemo trenutne globalne hitove i kulturne trendove
među mladima. Većina najpoznatijih svetskih DJ-a je u Sloveniji i Hrvatskoj prvi
put nastupila u organizaciji Supra Travel: Armin Van Buuren, Tiesto, Hardwell,
Deadmau5, David Guetta.
U 2014 godini Supra Travel će prvi put organizovati veliki zimski festival sa
međunarodnim izvođačima, koji će biti održan decembra 2014. Očekujemo vise
od 2500 mladih.
Agencija Supra Travel je bila osnivana 2008 godine i sa njom je putovalo vise
od 20.000 putnika, a na zabavama prisustovalo vise od 50.000 mladih. Godišnji
promet je 1 milijun eura.